Summer holiday with children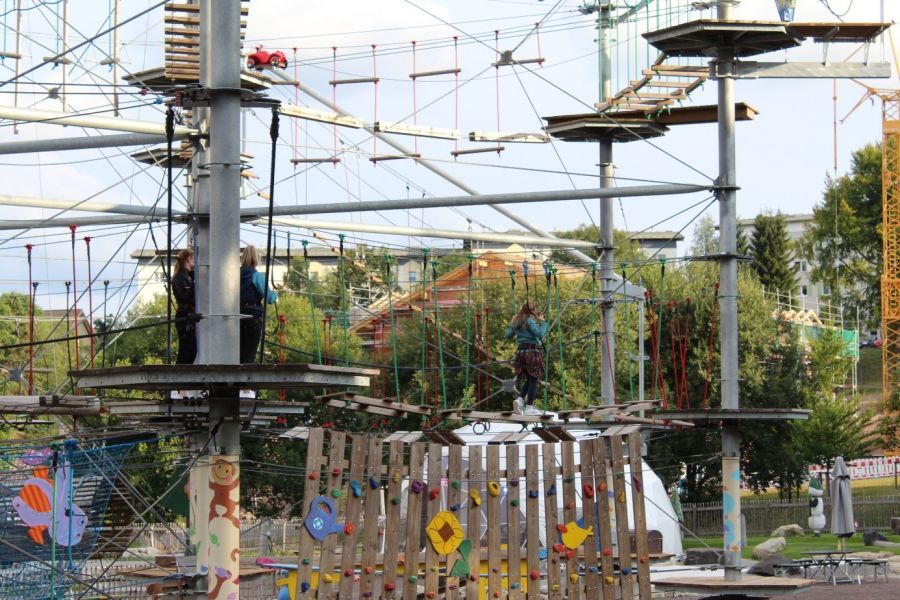 Golf-climbing-park
In Oberhof you can expect over 3000 m2 of adventure golf laid out over a unique course, a climbing park with 75 stations, climbing with the KiKANiNCHEN from the age of 3, giant swings and FreeDrop jumps from 5 metres onto an air cushion.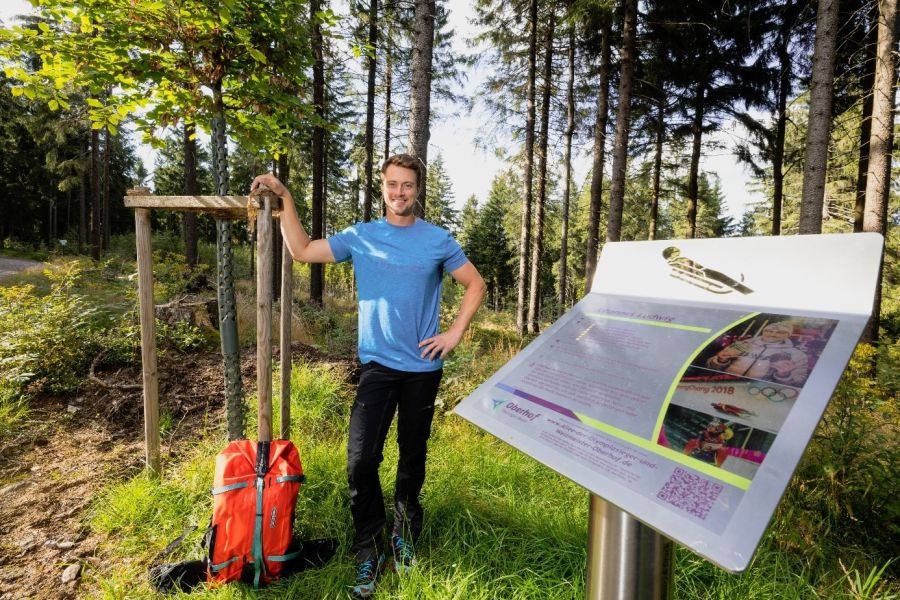 Forest nature trail
A beautiful, looped hike trail in the Schlossberg nature reserve in Oberhof. It is particularly great for the whole family or for some afternoon quality time together. Here you will also discover many interesting facts about the Thuringian Forest. The famous Schlossberg spruce tree is particularly striking. The last specimens of this very robust high-altitude spruce have been living here for over 250 years. Nowadays, active efforts are being made to propagate this rare tree.
Route 1.1 km, duration 0:45 h
Copyright: ariFoto – Michael Reichel | Regionalverbund Thüringer Wald e.V. | CC-BY SA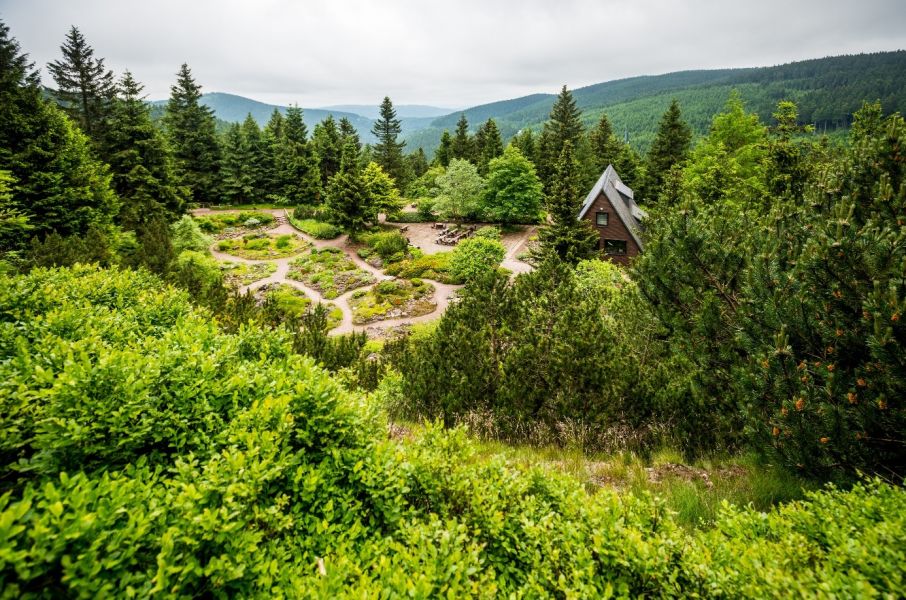 Rennsteig garden
As a botanical garden of mountain plants, the Rennsteig Garden Oberhof is a popular destination for excursions and has gained fame beyond the borders of Thuringia and Germany in recent years. On the 7-hectare site around the 868-metre-high Pfanntalskopf peak near Oberhof, visitors can get to know around 4,000 different plant species from Europe, Asia, North and South America, New Zealand and the Arctic.
Copyright: Dominik Ketz | Regionalverbund Thüringer Wald e.V. | CC-BY-SA 4.0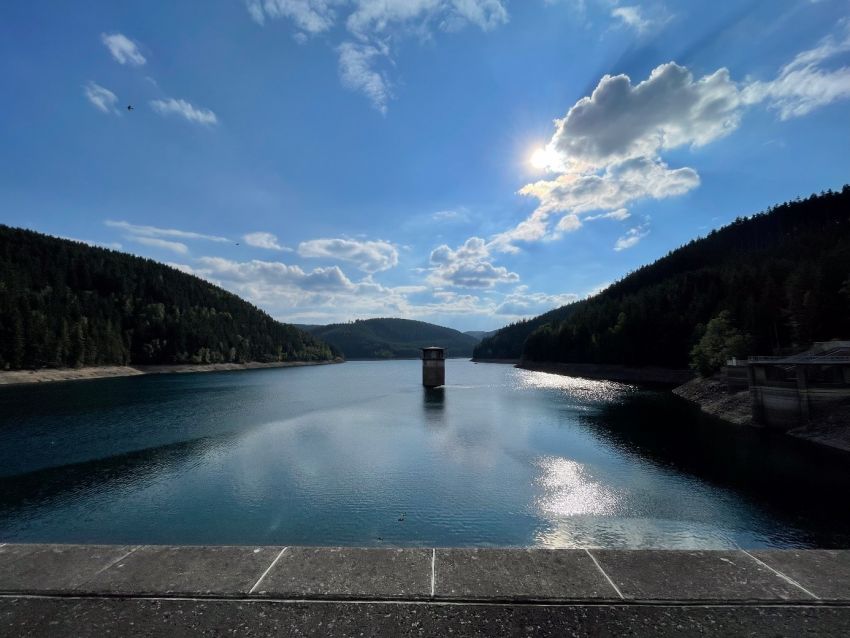 Ohratalsperre
The Ohratal Dam is located on the northern slope of the Thuringian Forest and serves as a drinking water source for central Thuringia. Hundreds of thousands of people use its drinking water. The dam is surrounded by a paved, barrier-free path 14.5 kilometres long. This way you can easily be by the water and in the forest, on foot or bike alike.
The Old Waldbad
The Oberhof Forest Swimming Pool. A dip in the Oberhof forest swimming pool is a treat, especially on hot summer days. In the north-bound curve on the L3247 in Oberhof take off towards Ohrdruf and follow the hiking trail to the Lütschetal dam. There, along the hiking trail, you will come to Waldbad Oberhof. The pool is run by an association. On warm sunny days, the pool is open to all guests.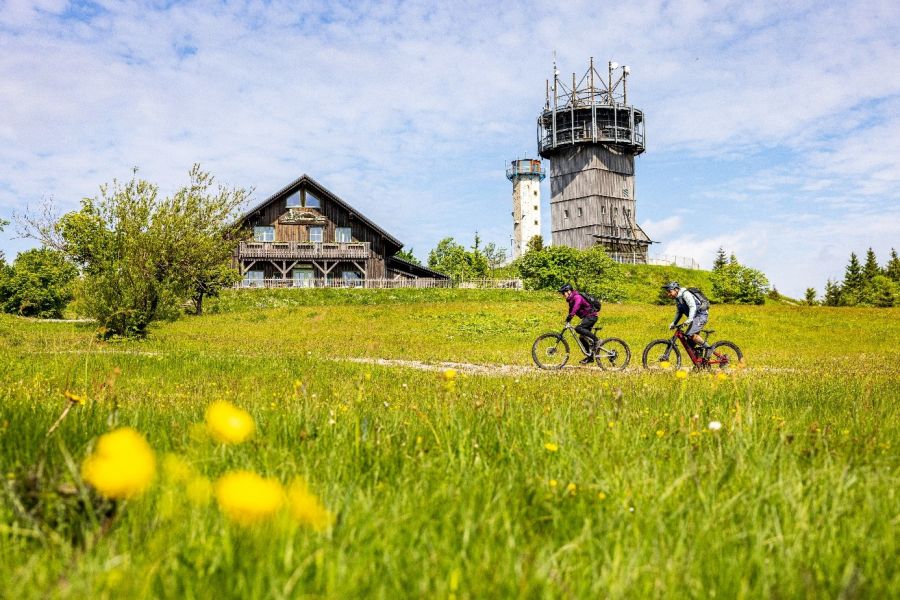 Schneekopf
Thuringia's second highest mountain offers breathtaking views of the Thuringian Forest. The lookout tower on the Schneekopf allows visitors to enjoy the view from 1001.11 metres above sea level. An unforgettable experience. Stop at the Neue Gehlberger Hütte, the highest managed hikers hut in Thuringia at 964 metres above sea level.
Copyright: Adrian Greiter | Regionalverbund Thüringer Wald e.V. | CC-BY-SA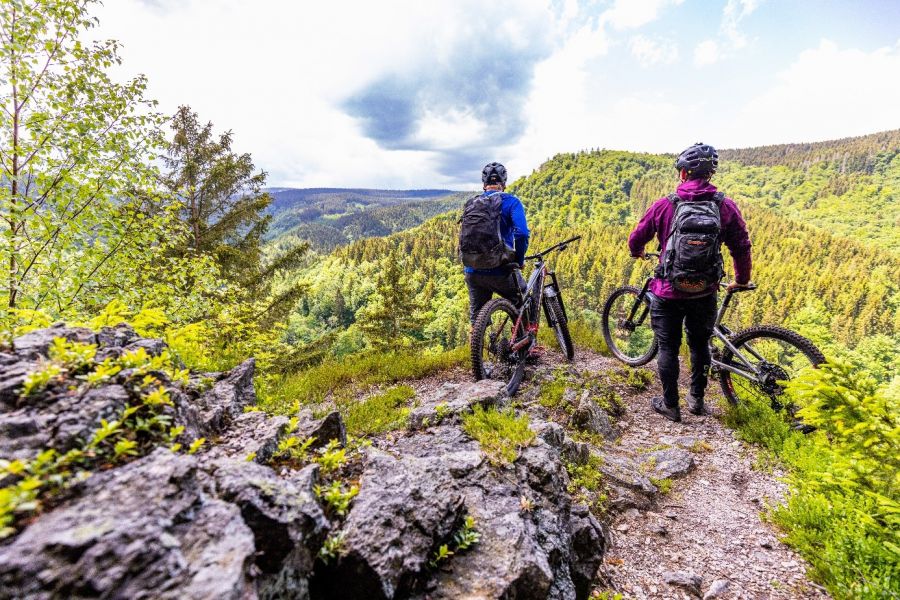 Großer Beerberg
The Großer Beerberg is the highest point in Thuringia. It has an altitude of 983 metres. Just below the summit you find a platform with a view of the Thuringian Forest. The Großer Beerberg peak is the remnant of a volcano that was active more than 250 million years ago. With a height of 982.9 metres above sea level, it is the highest natural elevation in the state of Thuringia and the Thuringian Forest.
Copyright: Adrian Greiter | Regionalverbund Thüringer Wald e.V. | CC-BY-SA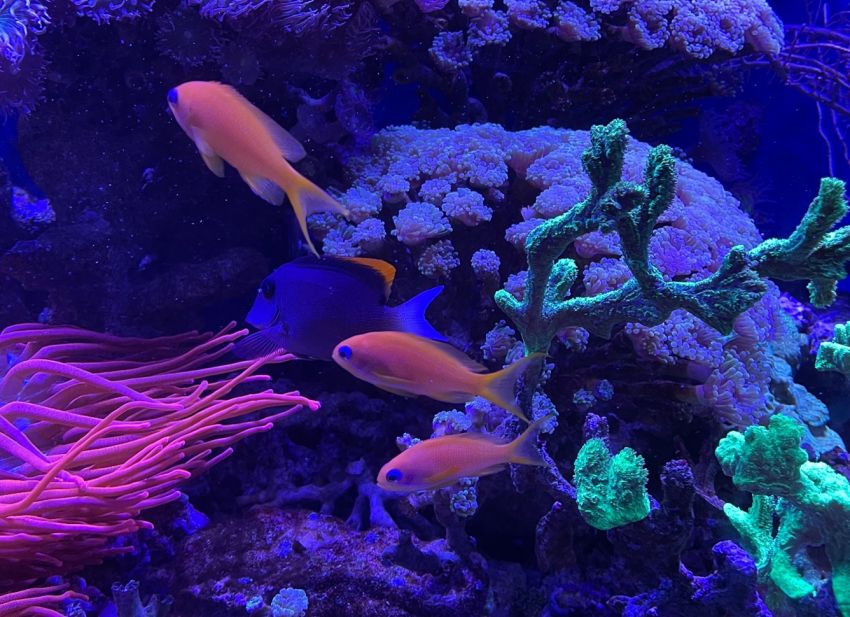 Sea Aquarium - Zella Mehlis
In the marine aquarium you can immerse yourself in the colourful underwater world of the tropical oceans and be enchanted by the unique beauty of special corals, sea anemones, reptilian sharks, and unique fish. Visit the marine aquarium in Thuringia, experience its unique shark tank with a capacity of 1,000,000 litres. Lemon sharks, nurse sharks, sand tiger sharks and bull sharks live there.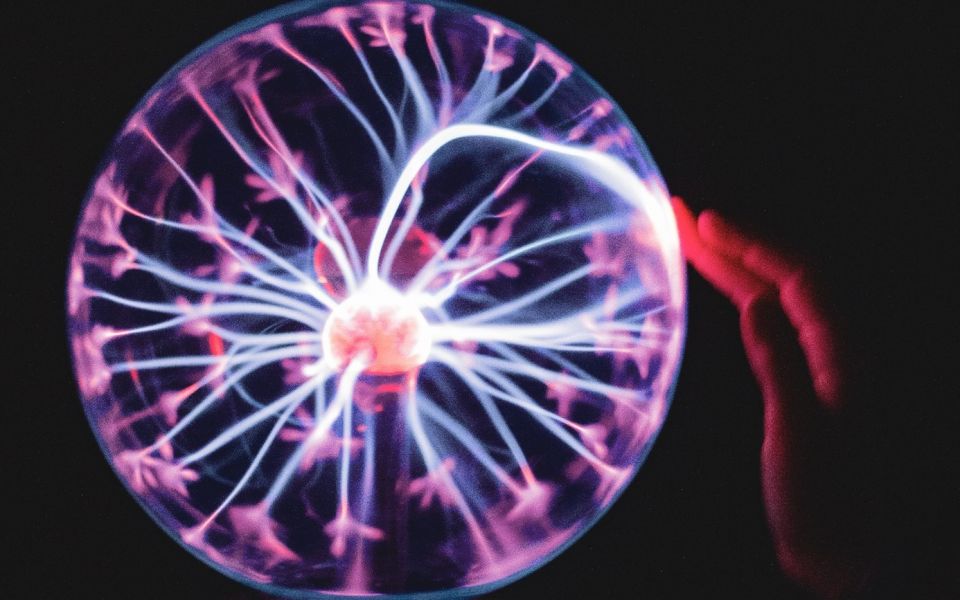 eXplorata – hands-on world
In the Explorata hands-on world, all explorers, both big and small, can discover the secrets of physical phenomena. The programme is called explore, research, investigate. Over 100 experimental stations, on an area of 1,300 m2, are waiting to be tried out and understood. You won't find any "no touching" signs here. Participation and touching are particularly encouraged.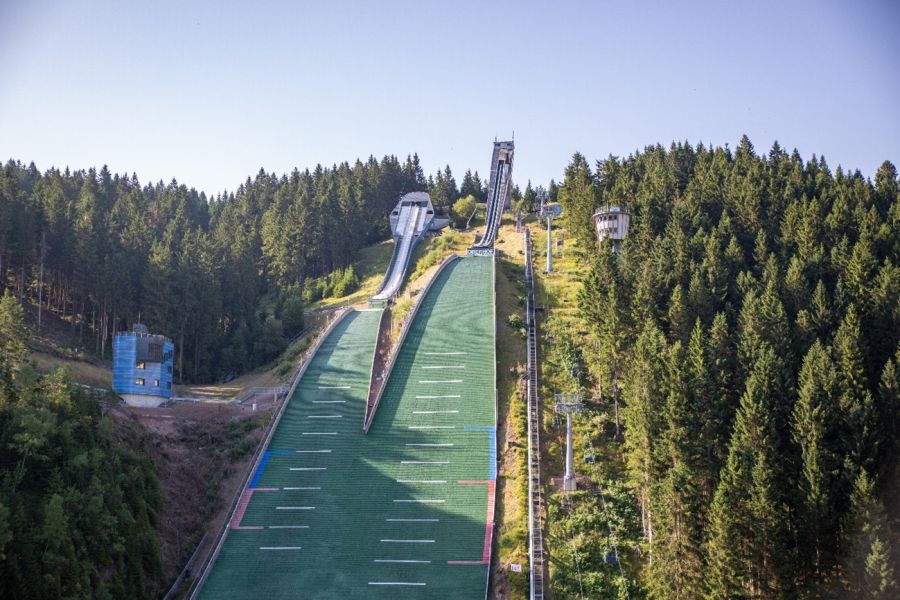 Kanzlersgrund ski jumps
The Kanzlersgrund ski jump was originally built in 1961 and first covered with plastic mats in 1979. Between 1984 and 1987, another ski jump was added as a normal ski jump (70 m ski jump). In 2013 and 2014, the entire ski jump area in Kanzlersgrund was extensively renovated. Common Hill (K90) was dismantled and completely rebuilt. For cooling in winter, it received a modern landing area made of ceramic material and then an ice rink. In addition, the landing areas of the two ski jumps are connected to form a landing ramp. All the ski jumps are covered with mats and can be used all year round. There is also a double chairlift, which has been in operation since 2015.
Copyright: Adrian Seeber | Regionalverbund Thüringer Wald e.V.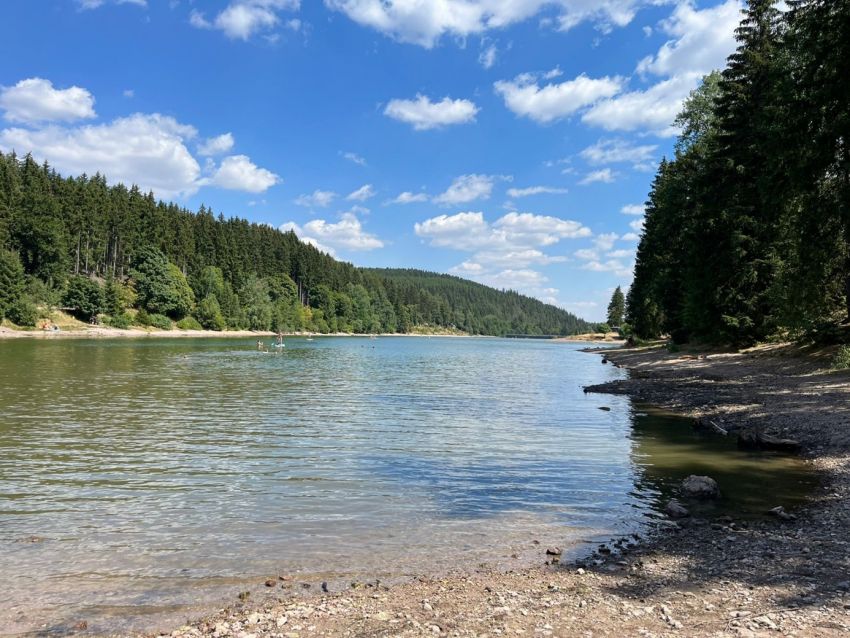 Lütschetal Reservoir
The reservoir, which is about 1 km long and 200 metres wide, offers a beach for swimming and numerous options for water sports and fishing. The water in the Lütsche is soft and comparatively cold. Even in summer, the water temperature hardly rise above 20 degrees. There are also playgrounds for children, a restaurant and camping site by the dam. It is also conveniently integrated into the extensive Rennsteig hiking area.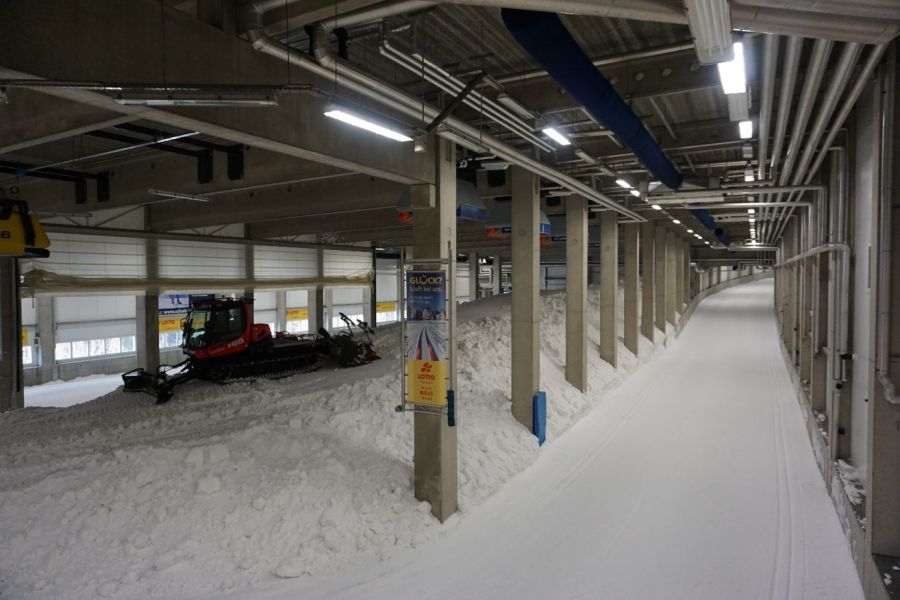 LOTTO Thuringia Skiing Centre
Oberhof is home to the LOTTO Thuringia Indoor Skiing Centre, a unique facility in Central Europe. An oasis for athletes in competitive and recreational sports has been built on an area of 10,000 square metres. There are different tracks divided into fast power loop (264 m), north-east loop (380 m) and west loop (1110 m). The halls are run parallel over a length of about 60 m and are connected to form a double track. With a constant temperature of minus 4 degrees Celsius, and accurately regulated humidity, the indoor ski centre guarantees optimal snow quality 365 days a year. The facility is extended by the integrated shooting hall, which offers four shooting lanes for small calibre and air rifles.