TGG also stands for – "Tremendously great gourmet"
SUSTAINABLE REGIONALITY – for our children and environment's future.
Savour creative and diverse food together, prepared for you the Grand Green way; with an extra pinch of love. Our international kitchen team has set the standard high. Our team prepares your food for in two work shifts, so that you are able to tickle your palate with the delicacies we prepare from early morning until late at night. What they all have in common is their high quality, thanks to our team and suppliers, who guarantee freshness and high nutritional value. With a large number of regional producers we also ensure short transportation way – lower environmental impact – for many of the products we use. Our responsible producers are dedicated to sustainable farming and production. We owe it to our children, and ourselves, to make this a priority.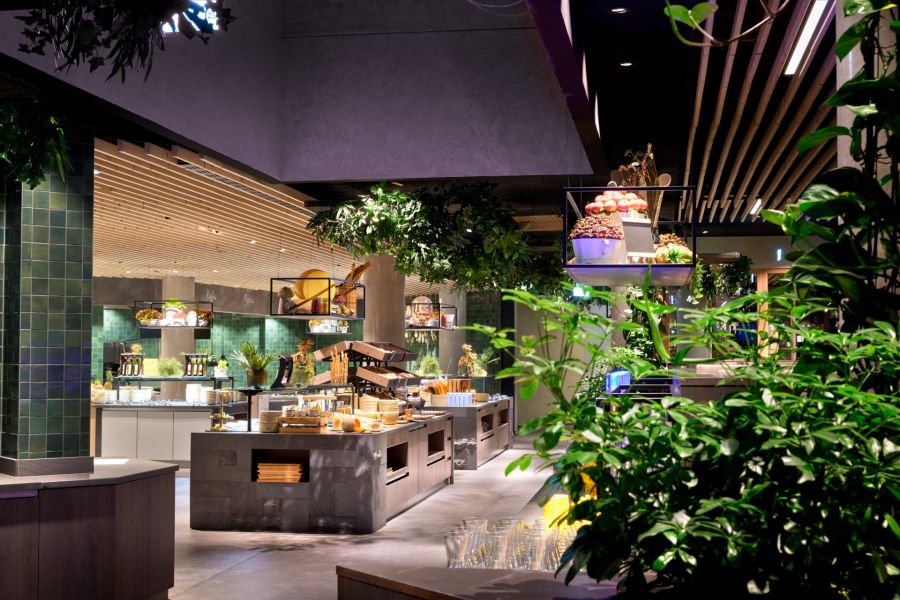 Start the day right
Our delicious and extensive breakfast buffet is sure offer all you can want to start your day right! How about a fresh and fluffy omelette, or perhaps a tasty waffle straight from the waffle iron? Or maybe some "brain food" with the Omega 3 Fatty Acid-rich salmon, perhaps on some silky smooth cream cheese and a freshly baked bread roll. The juicy sausages on the grill are also hard to resist… It is easy to remember to incorporate a vitamin burst in your breakfast with our freshly squeezed orange juice and gorgeous fruit and berry selection.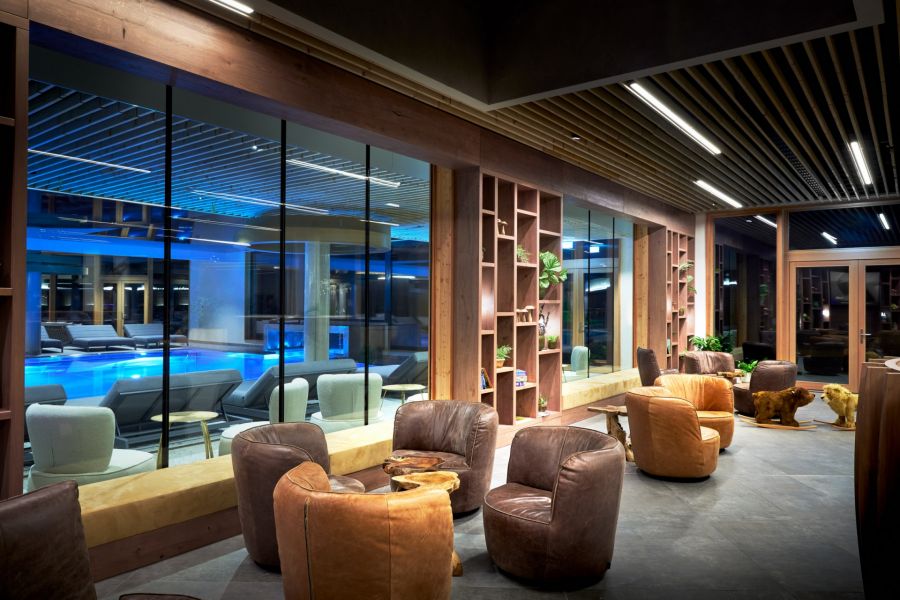 Pit stop in the middle of holiday fun
Whether you just want a quick lunch in-between all your holiday activities or you want to sit down and savour the family meal, our lunch buffet has all you could want; a wide range of classic starters, hearty soups, exciting main courses and special side dishes! The large salad buffet ensures a healthy side, or a light lunch for those still full from breakfast. Children have their own buffet, with a special child-friendly counter height, making lunch a culinary experience for all.
Of course we also have plenty to offer for the youngest: a HiPP corner with baby food and a variety of different and tasty milk powders, kids tea and much more. Naturally we also prepare fresh baby food for you, just order it directly in the restaurant. For the snack-lovers our afternoon buffet is a dream. Here you find sweet and savoury treats, fruit and cakes, and the biggest favourite of them all… ice cream!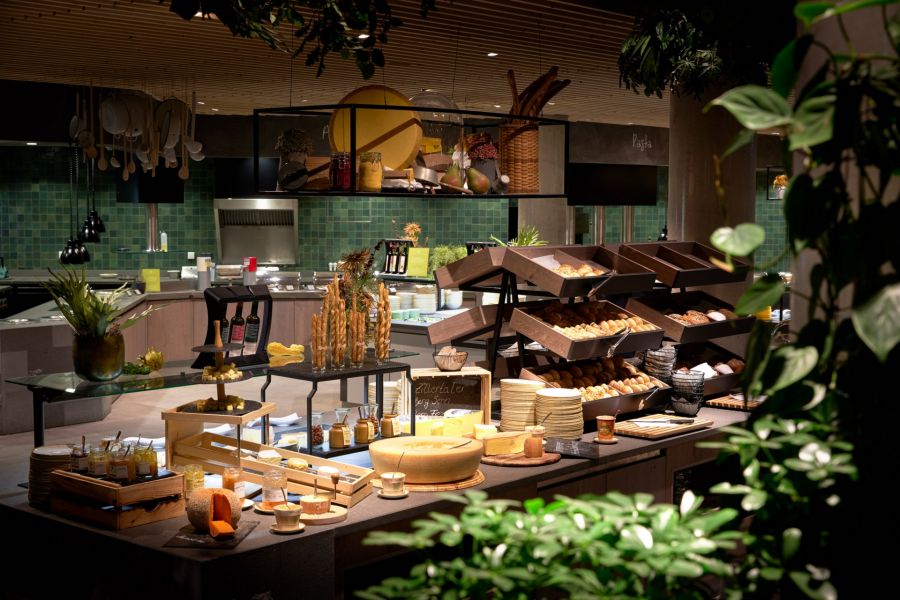 The perfect end, to the perfect day
In the evening our themed buffets and live cooking stations are the perfect match for hungry stomachs after a day full of fun holiday activities. From the Wok-station to the hot plate, you will find premium products in every corner – top-quality meat, fresh fish and crisp vegetables. The predominantly local farmers and producers guarantee short delivery routes and with that – much fresher food!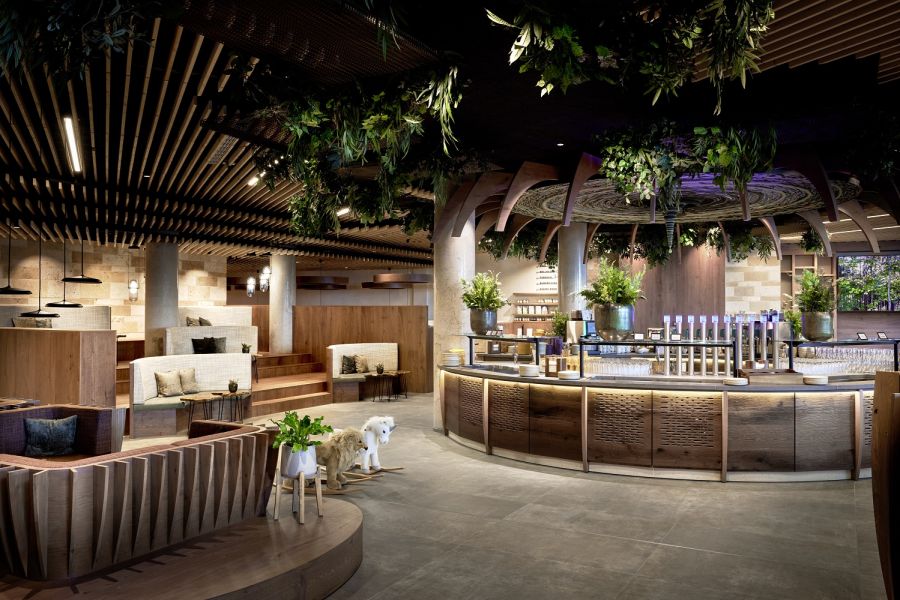 Our restaurant oasis
Our restaurant is designed in separate areas, with the help of skilled craftsmen and designers, to ensure a sense of privacy in a pleasant and stimulating atmosphere – even when we are fully booked.
Next the the kids buffet you find a dedicated area for the little kings and queens to dine with their newfound friends or one of our child carers. Where, if not here, can you feast like a royal without mum and dad?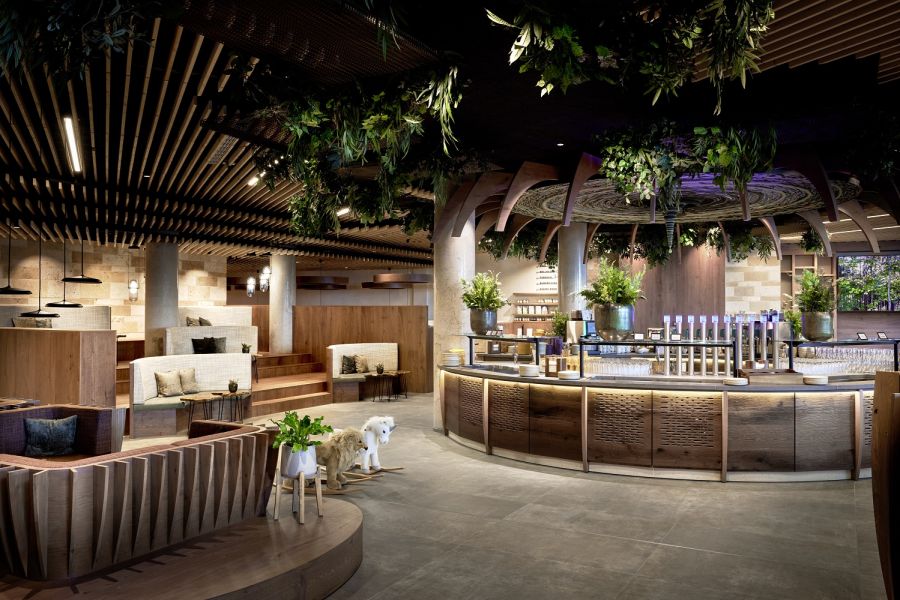 Unwinding by the bar
Do you fancy a Mai Tai, or perhaps something more simple like a smoky whiskey, an aromatic gin or even an old classic like the Cosmopolitan? The distinguished ambiance of our bar, with elegant furnishings and inviting leather sofas, is the perfect place to unwind. Our bar experts will help you find the perfect drink, whether its an old favourite or discovering something new. Reminisce over the happy memories made that day and let the charming atmosphere feel completely content.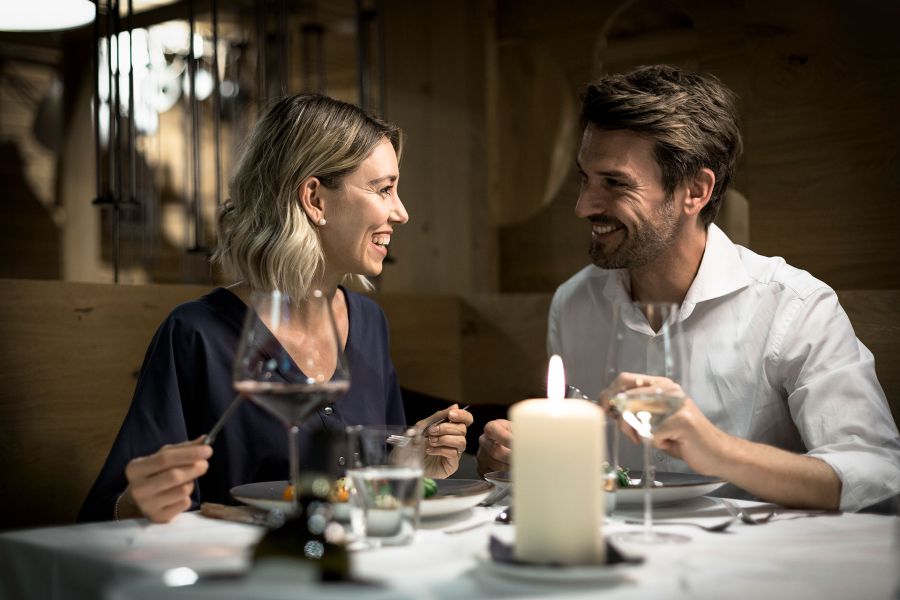 The Wine Cellar
We guarantee you a wine selection that is diverse as it is interesting in our wine cellar. The nuanced richness of a specific wine pairing can take a great meal and make it fantastic. Our selection of top international wines promise you many blissful discoveries. Our experienced sommeliers will of course help guide you through your discoveries, sharing their vast knowledge so that you can rediscover long-time favourites with new food, or discover new flavours all together. Through our organised wine tastings you will learn more about the specific grapes, cultivation, and the fascinating process of wine making and the precise work of the wine makers. Our sommeliers love to share their love of wine and help others discover the joy of the wine world.
Every evening the recommended Wines of the Day can be tasted, free of charge, at our Kostbar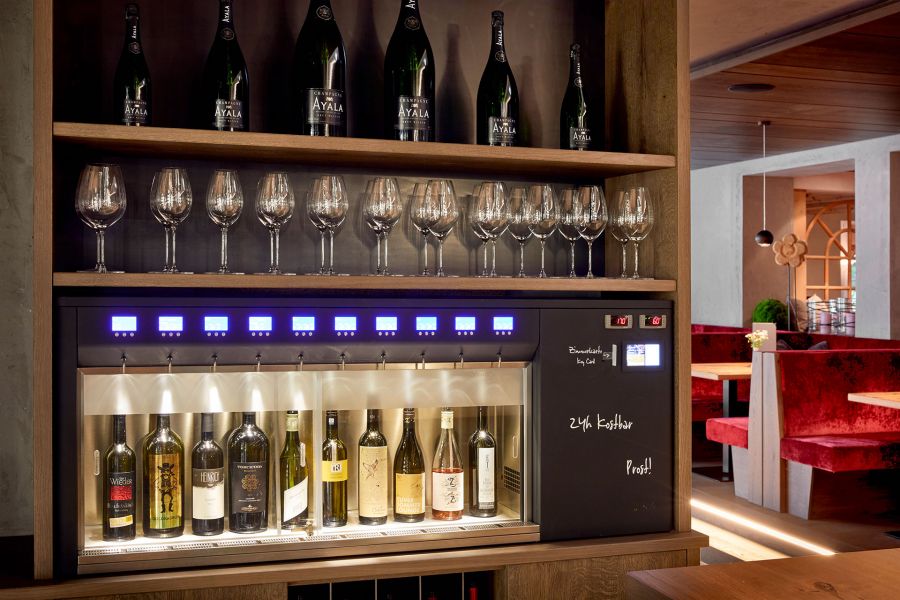 The 24h Kostbar – top wines to try
Our Kostbar is aptly named so as "kostbar" means "precious", and "kosten" means "to taste" – making the bar the perfect place to taste precious wine! Here you can try and enjoy 16 different top-quality wines, 24h per day. Wines from Germany, France, Italy and Austria, as well as wines from more exotic or lesser-known wine regions, can be tapped directly into your glass (at its correct temperature of 6°C or 16°C) using only your room card. Depending on what you want, you can choose either a sample sip, a small glass (approx. 100mL) or a large glass (125mL). Simply place your glass under the tap and press the button you want.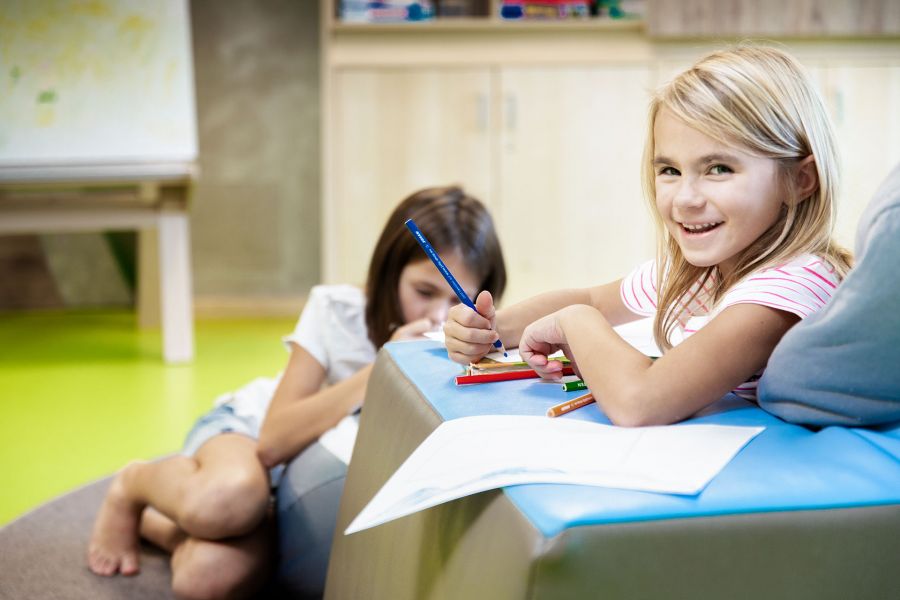 Non-Alcoholic Drinks
Automatic drink fountains are found in the restaurant area and the bar. All the drinks from the drink fountains are available around the clock, completely free of charge!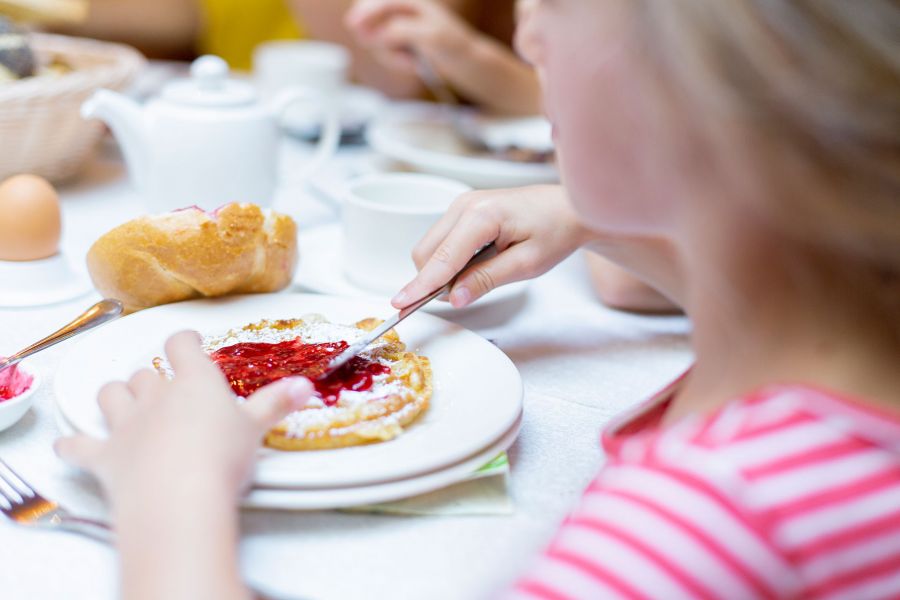 Special nutritional needs
Those who have gluten and lactose intolerances/allergies will find a large selection of substitutes and specially made products. From pasta to crisp bread, from marble cakes to muffins, from pizza crusts to fun snacks, to all kinds of milk and cheese – we prep, cook and bake to ensure you have a carefree vacation. If you have other nutritional needs and need specially prepared food, that is not a problem! It is best to contact us before you arrive. The kitchen team will then put together your holiday menu, tailored to your respective intolerances and allergies.
Gastronomy times
Breakfast from 07:30 to 10:30
Lunch buffet from 12:00 to 13:30
Cake and snack bar buffet from 13:30 to 17:00
Dinner buffet from 18:00 to 20:30
Kids dinner buffet from 17:30